Introduction to Zoo Conservation Biology
Conservation Biology is a rapidly growing multidisciplinary field in biology which focuses on biological principles and their applications for the conservation of species and habitats, biodiversity conservation in general and the maintenance of equilibrium within ecosystems. It represents a fusion of relevant ideas from ecology, population biology, genetics, biogeography, behaviour and a number of applied disciplines such as wildlife management and forestry. Zoo Conservation Biology specifically approaches this broad field of research from a zoo perspective, and this course will mainly focus on areas of interest that are related to small population management in captive settings and in field conservation programmes.
This course is part of the Master in Environmental Biology at Utrecht University specialization programme Behavioural Ecology.
Course coördinator: Zjef Pereboom
Course planning: 14/10/2019 to 08/11/2019
Credits: 6 ECTS
For practical reasons, participation in his course is limited to 14 students. Priority will be given to masters students enrolled in the specialization programme Behavioural Ecology (Master in Environmental Biology) at Utrecht University?. Acceptance to the course is not based on first come - first served, but will depend on a motivation letter explaining how this course fits your individual study programme. Please note that you will not be able to register through OSIRIS but are required to register here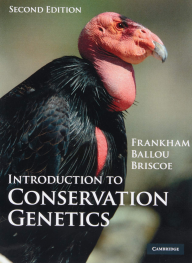 Recommended Book: Introduction to Conservation Genetics - 2nd Edition (2010) Richard Frankham, Macquarie University, Sydney, Jonathan D. Ballou, Smithsonian Institution, Washington DC, David A. Briscoe, Macquarie University, Sydney (ISBN-13: 9780521702713)